IBC Accessories
Bisphenol A-Free Valve for IBC
---
Compliant with the most restrictive local legislations forbidding Bisphenol A in plastic material in contact with food products, our new Combo Valve enables our customers to be ahead of the future EC norm in preparation, lowering the authorized Bisphenol A level in all food plastic packaging.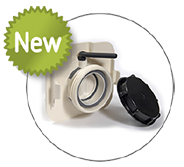 Liner Bags
---
A wide range of liner bags is available for the AIC Combo CL285. The liner is built up by a number of film layers welded together. Each layer of a selected material provides desired performance. To fill and discharge, in and outlet glands or valves, are available in various dimensions and designs.

IBC Connector
---
Various connectors are available. The connectors are attached to a filling or discharge hose with the hose either connected to the filling gland or the discharge valve.

Filling Bridge
---
There are different ways of filling the Combo. One of them is from the top of the container with the support of the filling bridge. The filling gland on the liner bag is connected to a filling bridge for easy filling.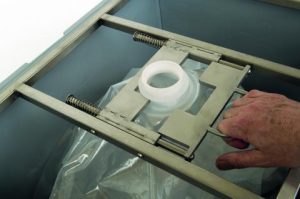 Tamper Evident Seal
---
The tamper-evident seals are used to secure the four locking devices of the lid.

Tamper Evident Cap
---
The tamper-evident cap secures the discharge area during transport and storage.

 External Valves
---
Various external valves are available. This allows customers to empty the container in a convenient way.

---