AIC – Securing Reels
Securing Reel Solutions for Transport and Storage

As the basis of all logistical processes, load safety is invaluable. AIC provides you with two intelligent and easy solutions:
Reel Saddles
Multi-Purpose Wedges
---
Reel Saddle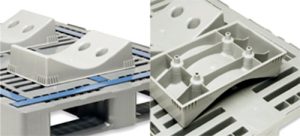 For the AIC CR1, AIC H1, AIC CR3, AIC CR3-5, and AIC H3; for securing pressure and surface sensitive reels.
One-piece solution underneath the load
Max. of 4 reels/pallet
Max. reel diameter: 800 mm
Material: high quality, regenerated HDPE or fibreglass reinforced PP
Load HDPE: 350 kg
Load PP: 600 kg
Transverse and longitudinal use are possible
Flat loading of goods from both sides
Effective retaining in pallet openings
Loading and unloading with a mandrel or sling
---
Multi-Purpose Wedges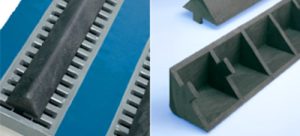 470 x 115 x 60 mm
1110 x 115 x 60 mm
For the AIC CR1 and AIC H1; for securing reels on pallets.
Mounting of this two-piece solution is easy, after loading the goods
Max. of 2 reels/pallet
Max. roll diameter varies
Material: regenerated PP of the highest quality
Load: according to pallet type
Transverse (length 470 mm) and longitudinal (length 1,110 mm) use possible
Effective retaining in pallet openings
Loading and unloading with a mandrel or sling